[Originally posted on Forbes.]
For parents who are looking for a more educational but still entertaining way of bonding with their children, look no further. Looking Glass children's videos are geared toward kids ages two to eight and cover a variety of fun topics about how things work or how things are made. These kid-friendly topics include taking a hot air balloon ride, baking cupcakes, or making a pizza. Regardless of the topic, the videos themselves are beautifully shot and put together with a soothing soundtrack – it's almost like a temporary adventure that both parents and their children will be sure to enjoy. The mobile app (currently only offered for iPhone and iPad users) runs on a subscription basis. For $3.99 a month, subscribers get access to three newly released videos a week directly to their mobile devices.
I recently sat down with Ryan Budke, CEO & Co-Founder at Project Comet, the team behind Looking Glass, to find out more about the team's thought process and plans for the future.
Jesse Thomas: How does Looking Glass decide on what topics to shoot for each video?
Ryan Budke: We have a clinical psychologist on our board who specializes in child development. She helps guide us toward subjects that will give the greatest opportunity for parents and their children to talk about what's going on in the videos. We're always looking for new ways to give our audience  a peek behind the curtain of various things in our world, and we do our best to choose subjects that are both useful and entertaining to children.
Jesse: Is Looking Glass planning to have an in-app feature for users to vote or submit topics?
Ryan: Yes. When our blog relaunches in the coming weeks, submitting topics and suggestions will be a prominent focus. The ability to suggest from within Looking Glass itself will be in the next feature release of the app.
Jesse: How long does it generally take to film and edit a video?
Ryan: Shoots can range from an hour or so (for topics like hang gliding or making a pizza), to a few days (like sculpting a wedding cake).Editing takes less than a week, with the exact time depending on the complexity of the subject (for instance, a simple, sequential sequence like making a cupcake takes less time than a day spent at a ranch for horseback riding). An extra day or so is spent on re-edits, and then color correction, music selection, and cleaning up the footage with After Effects (like smoothing camera shakes). We strive to produce truly beautiful footage – the quality of the videos is extremely important to us.
Jesse: Since not everyone has an iPhone or iPad, does Looking Glass have plans to create apps for other tablets or Android phones?
Ryan: Yes. We will be on Android near the end of the year, and on the Kindle Fire early next year if not sooner.
Jesse: How about possibly having a web-based app where users can log into their accounts and view the videos on their computers/laptops?
Ryan: This is something we're working on for the long term, but we want to be very deliberate and careful about it. Part of the reason that we launched on mobile devices is that it allows us to prevent a safe "walled garden" environment for parents to let their children play in. The app is self contained so that children can explore the videos safely, while a web service would make it much easier for a child to navigate into the Internet at large and come across something that they shouldn't.
Jesse: Is there a reason why your company decided to exclude narration from the videos?
Ryan: We did this for a few reasons, actually. For one, no narration means no language barrier. This has allowed us to launch internationally, where we've seen a great adoption rate. International users make up almost 20% of our audience right now. Also, we grew up with children's shows like Sesame Street and Mr. Rogers, which had a lasting impact on us all the way into adulthood (we still remember our favorite episodes!) Those shows let children rely on the visual medium when it came to informational segments – like visiting a crayon factory – and we wanted Looking Glass to have that same feel. Learning by seeing is a powerful thing, especially for children, and that's what we want our videos to help them do.
Jesse: You guys have a great idea and a good fan base. Do you guys plan on venturing out into other forms of media such as educational and interactive games for the iPhone/iPad?
Ryan: We do plan on doing these, but want to guarantee that they live up to our standards of being informative, entertaining and engrossing. We also want to make sure we don't push everything out at once, but you will see both interactive features, and other content to subscribe to within the app soon.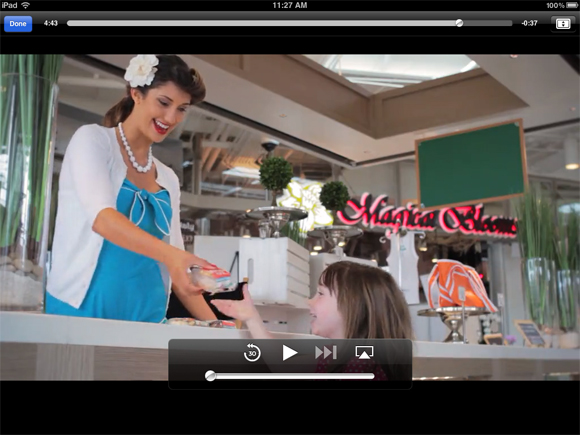 Jesse: It seems like a lot of the videos are about how food is made. Since some kids may want to test the cooking/baking with an adult after watching the video, do you guys include simple recipes at the end of the videos? Or if not, would you plan on adding that feature?
Ryan: While we can't provide the exact recipes seen in the videos (since most are filmed in restaurants), our blog will include similar, kid-friendly recipes that children and their parents can do together. Over the coming weeks, our blog will grow to highlight not only parent-child activities, but will also provide curated content that will act as a companion to the videos themselves. Along with what I mentioned above about new features along these lines, you'll see our blog grow to be a true library for parents to explore so that they can become their own "director's commentary" for their children.
Follow Looking Glass on Twitter, or like them on Facebook. Interested in the app itself? Buy it here in iTunes.
Jesse Thomas is JESS3's CEO and Founder, follow him @JESS3.


Tags: apps, education, ipad, jesse thomas, Looking Glass, Project Comet, Ryan Budke