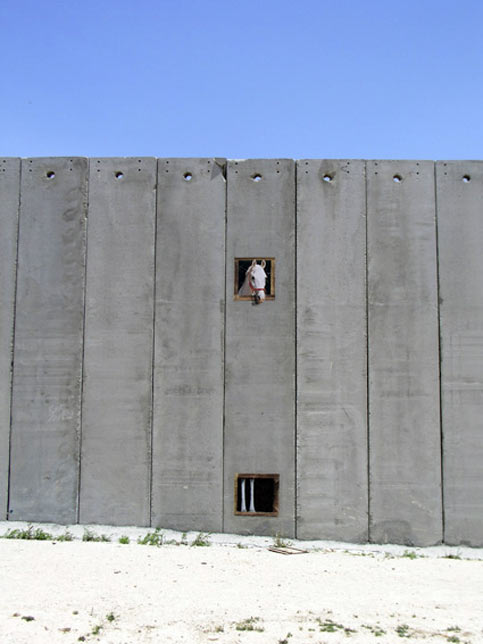 Guerrilla artist Banksy has struck again – this time on Israel's controversial security wall.
He has created nine stencil spray paintings on the Palestinian side of the West Bank barrier. One shows the head of a white horse appearing to poke through the wall.
Its elongated legs appear through what has been painted to look like a small opening at the base of the wall.
Another shows children digging what looks like a hole breaking through the wall.
In a third surreal image, a ladder appears to be going up the wall and over to the other side.
Banksy made the paintings during a trip to Palestine last week, and the pictures have just emerged. Banksy spokeswoman Jo Brooks said: "The Israeli security forces did shoot in the air threateningly and there were quite a few guns pointed at him. The images are still there."
The fence, made of concrete walls and razor-wire fences, has been deemed illegal by the UN, which has ordered it dismantled. Expected to be 425 miles long when complete, the barrier has been criticised for separating Palestinians from their jobs and families and for cutting deep into Palestinian territory.
Israel says it is a necessary security measure to stop suicide bombers.
via The Guardian