Everyone here at JESS3 loves emoji. We were excited to hear that the OS X 10.10.3 and iOS 8.3 releases will be making some amazing emoji improvements, and we want to tell you why you should be excited too.
First, the biggest improvement – skin tone modifiers. Unicode opted to accurately portray the diverse assortment of people who use emoji, which is why five skin tones will be available for many of the emoji options.
Additionally, the white default has been replaced with a yellow "neutral" tone.
Apple is also including a range of other characters (optional for Unicode) for skin tone modification.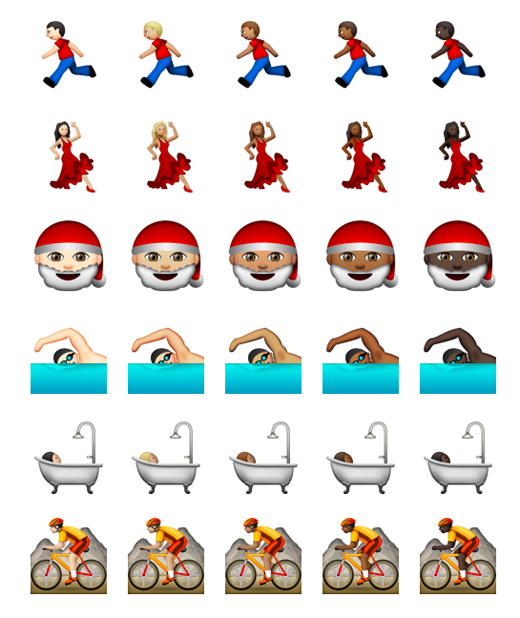 There has also been the addition of family emoji, with a variety of pairings, including gay and lesbian couples.
And the number of flags has increased, adding an additional 27 to the mix.
Let's not forget to represent Apple's other products, which brought Unicode into the spotlight. New and updated items include the Apple Watch, iPhone 6, and iMac.
The categories have also been updated for easier use.
Which is also carried into OSX 10.10.3.
Currently, there's no sign of the Unicode 7.0 emojis being included in OS X 10.10.3, nor the Unicode 8.0 emoji candidates. And there's still no release date for the general public.
We'll keep you posted when there's more, but consider us pumped!
Source: http://blog.emojipedia.org/os-x-10103-emoji-refinements 


Tags: emoji, iOS, iOS 8.3, OSX, OSX 10.10.3, racially diverse