My friend Gabe Paez is on an adventure – literally and figuratively – with an iPhone. Actually, with 9 iPhones.
Gabe has a scooter – sorry, a Vespa named Pucho. Gabe and Pucho have 8 iPhones attached to them to capture 360º panoramic video of a coast-to-coast journey. The 8 iPhones are all controlled by a 9th iPhone, which Gabe uses to control the other 8 and the video capture as he rides. The video he captures will then be used for an immersive projection for a live theater project that Gabe is also working on.
Gabe is from Portland, so this is all very cool and hip obviously. When he first started talking about working on a theater project I knew it must be interesting, but this is a whole new level, and it's not without sacrifice. Here's a snip from his latest post from somewhere in Canada:
Day 9: Oh Canada… thank you for allowing us to shortcut above Lake Eerie and then back into the US at Niagra Falls.  The falls were beautiful and I had the great opportunity to answer that I was not with Google street view about 30 times in my short time passing through.   We rolled into Rochester, NY well after dark last night in some very chilly and slightly rainy air.  Today we are jumping back into Canada to enjoy Montreal and then it is one day over to Portland, Maine.  I can't believe that we are getting so close… All day as I struggle to hold the weight of my helmet up and breathe deep to suppress shivering I have visions of the Atlantic Ocean.  We are on our way!
You can track him via Google Latitude as he moves across the country and read all of his posts.
If you feel like supporting a grassroots tech/maker trying to give a facelift to theater, you should Donate to My Friend Pucho and buy Pucho a tank of gas or two!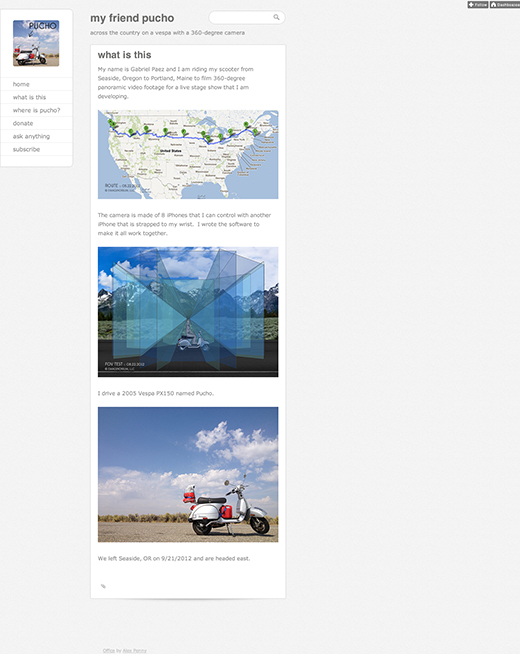 Ride on, Pucho!


Tags: brad cohen, bradcohen, Gabe Paez, Gabriel Paez, iphone, live theater, myfriendpucho.com, Pucho