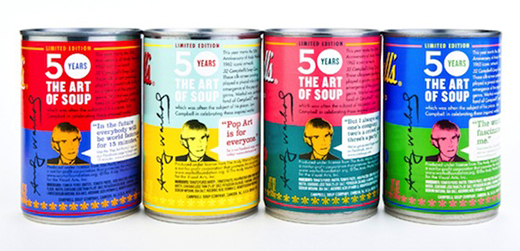 Partnering with the Andy Warhol Foundation for the Visual Arts, and in honor of the 50th anniversary of Andy Warhol's 32 Campbell's Soup Cans, Campbell's Soup released 1.2 million limited-edition Andy Warhol inspired Campbell's Tomato Soup cans to be sold exclusively at Target for .75 cents a pop. There are four different types of Warhol themed cans, making for a colorful collection.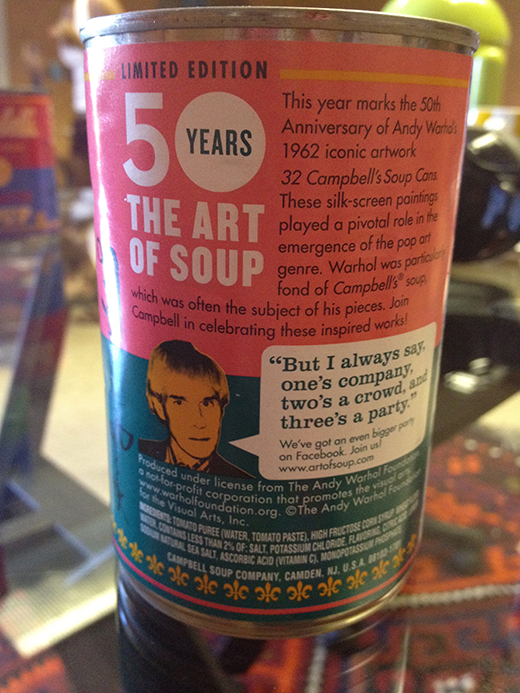 On top of the product release, Campbell's launched "The Art of Soup" campaign for the month of September, where if you like their Facebook page you can use their app and transform a picture of yourself into a "Pop Art-style pic" to possibly be featured as the Campbell's Facebook cover photo. Being the Andy Warhol fan that I am, I tried the app. It's pretty cool, kind of blurry but fun none the less. Don't judge the photo. It took just about 2 seconds to turn me into an iconic piece of Andy Warhol-ish art, and I'm not Marilyn Monroe. They also have a Can Memory Game and a Picture is Worth 1,000 Cans fan-friendly photo gallery – I held off on that one, for the sake of professionalism…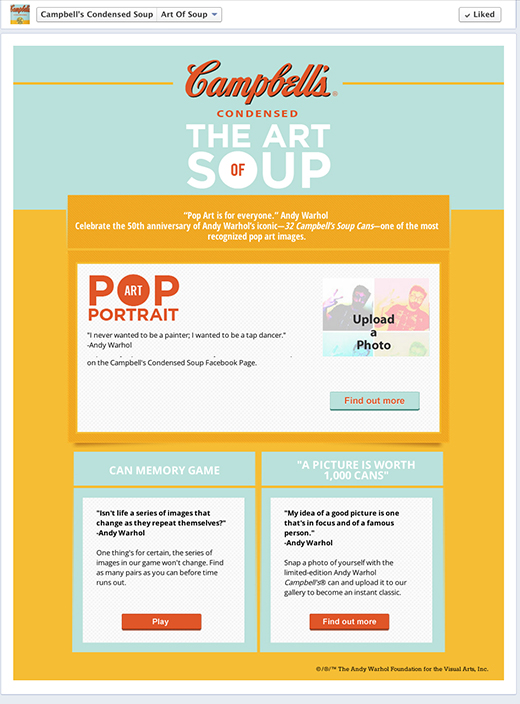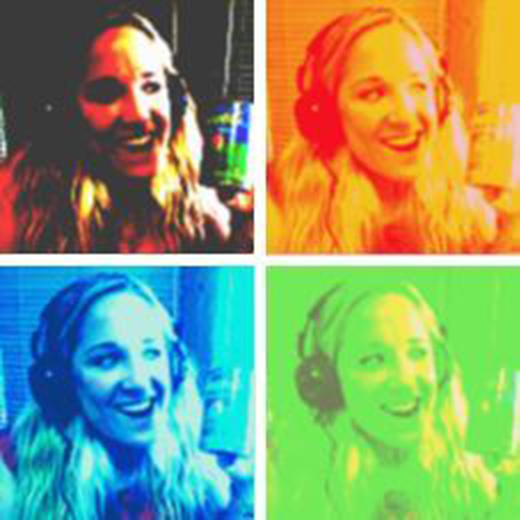 1962 was the year Warhol's series of Campbell's soup cans first exhibited. Originally, the paintings were resting on a shelf to mimic a grocery store isle. Warhol did his homework, there are 32 can paintings, representing the number of varieties of soup sold at the time.
Of course, he later expanded the collection to include more surrealistic pieces, like Small Torn Campbell's Soup Can (Pepper Pot), 1962.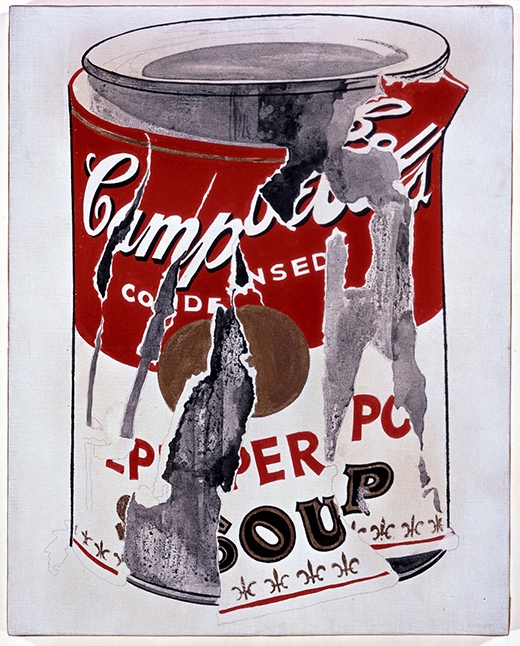 Why soup cans? Somewhat mockingly, Warhol chose cans (and other "mundane" objects) for his subject instead of a landscape or fruit basket. Not to mention, adding to insult, his art appeared printed instead of the traditional painted canvas. There was a boat, and he rocked it. As Warhol said, "… a group or painters have come to the common conclusion that the most banal and even vulgar trappings of modern civilization can, when transposed to canvas, become art." Why, thank you Mr. Warhol, in so many words, you've just described Instagram.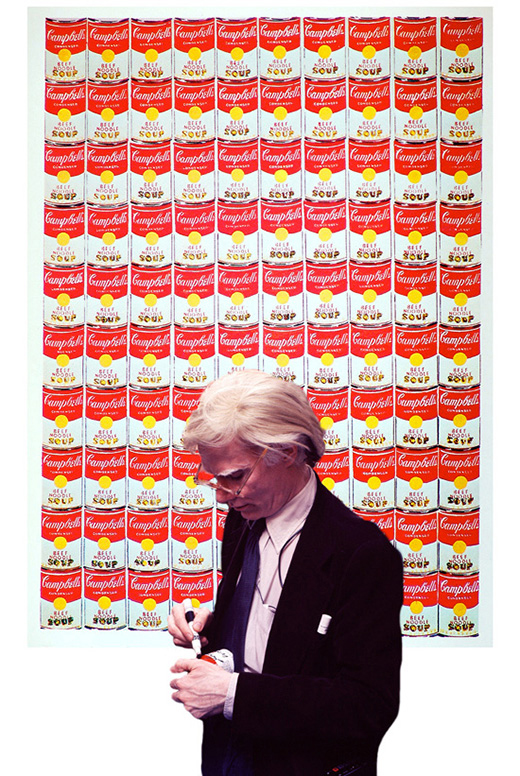 According to the Museum of Modern Art website, Warhol consumed the soup every day for 20 years, "I used to drink it. I used to have the same lunch every day, for twenty years, I guess, the same thing over and over again." I don't know about you, but I'm not surprised. Geniuses seem to be prone to ritual. Warhol practiced what he preached, his art was his every day. He was every meaning of the word cool, as well as complex in the way that only a really cool person can be. Understated, yet eccentric. And soup, of course he liked soup. It is as classic and timeless as he is. The pop art silk screens Warhol created are the coolest thing that could've happened to a soup with history dating back to 1897.
Although this isn't the first time Campbell's has embraced Warhol's images, it is the largest they have ever spread their arms in acceptance (so-to-speak) of Warhol's use of their brand. According to The Village Voice, at one time there was even talk of Campbell's seeking legal action against Warhol.
Can you imagine though, sitting in the Campbell's boardroom after they heard about the paintings (and saw them, hopefully). I'm sure they were so conflicted, "It's not our painting. But it is our product. We didn't pay for this, correct? Will this be bad for us? It's genius! Right Greg? You think it's genius, right?" Whoever Greg is, you know the guy in the suit in the 1960's…
One thing I'm not sure about is, I don't know how Warhol would feel about his cans being a Target exclusive despite the great display…
I guess, in the name of art, it works. It's not as everyday as Walmart. He might have preferred the irony of his art being mass produced and sold on a Walmart shelf instead. Art for everyone. Not to get too heavy or anything, I mean we are dealing with cans here. And the can sales are helping support his foundation. Plus, let's be real, it's a fun, uplifting campaign for Campbell's Soup. I'd definitely reach up and grab one if I was strolling through the soup isle, simply because it lets you feel like you're getting to take-part in the awesomeness that is Andy Warhol.
The man had vision. He progressed art along its timeline in history, and his work and life continues to be an inspiration for everyone in the visualization bizz — JESS3 included, ha!


Tags: advertising, andywarhol, artwork, campells, featured, Sarah Hill, target