Originally posted to Forbes.
As a life-long design and data visualization lover, infographics are one of my favorite pieces to create and to explore. It's the mix of an incredible visual, snackable data and easily sharable content that is the beauty of an infographic. This is what makes Visual.ly, an infographic-sharing community, so great: it's social data visualization at its best. I've been an avid user for quite awhile!
Having the chance to interview the Co-founder and Chief Content Officer of Visual.ly, Lee Sherman, I wanted to know how his background in journalism and his part at Mint.com and Intuit contributed to the conception of Visual.ly, and his thoughts on the future of data visualization.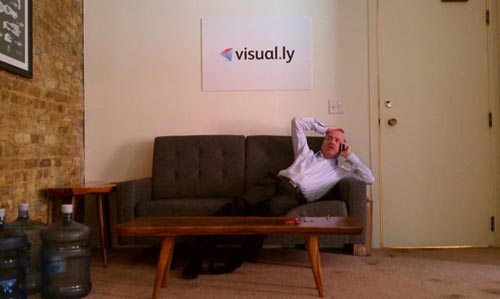 Jesse Thomas: Your background is in editorial and journalism. What brought you over to the world of tech and start ups? Which aspects of the industry do you love the most/dislike the most?
Lee Sherman: I used to cover tech startups and now I help run one. I love the dynamism, the exchange of creative ideas, and the fast-pace. I'm less crazy about the ego clashes that sometimes occur.
JT: Infographics have been gaining popularity as a way to convey complex data. Was that a particular catalyst for the visual.ly team that pushed you guys towards expanding on the concept?
LS: The popularity of infographics definitely played its part but, more importantly, we felt that there was a need in the market for a platform and tools that could help take them mainstream.
JT: Please tell us more about your role in starting Visual.ly and your role there now.
LS: It's the same now as when I started. I run our creative team, define our content strategy, and help advance the cause of visual storytelling on our website and in our product.
JT: One of the most exciting pieces of the Visual.ly idea is the visualization automation service you're teasing in the Labs portion of your site. Can you tell us more about you vision for this project and peoples' response to it?
LS: We've had an overwhelming response to the concept of tools that make it easy to automate the production of infographics and data visualizations. I think this is because they are both popular and hard to produce. I can't say too much about what we're working on but I will say that we are focused on delivering fantastic looking results.
JT: We love your 'Twitterize yourself' – what was the idea behind this particular feature? What is the future of these interactive infographics on your site and beyond?
LS: We did the "Twitterize yourself" app as a gift to the community and people have had a lot of fun with it. It gave us an opportunity to really learn the Twitter API which we'll be taking a lot more advantage of in the future.  A few folks have experimented with taking a particular data feed and producing automated infographics. I think you'll see a lot more automated infographics from us and others.
JT: What do you say to the haters that say that infographics might be just a trend – do you have any concerns about that and what makes you think otherwise?
LS: Infographics in their current form may be a fad but visual storytelling is the future. There's no better cure for information overload.
JT: Do you have any predictions for the future of infographics? What do you think the future of sharing infographics is? Videos have been blessed with embed codes, will we see infographics with embed codes?
LS: We already do. One of the benefits of infographics is that they are self-contained and easily shareable. The way people read is different today. You might share a link via Twitter or Facebook or Stumble Upon a story. You don't necessarily notice where the story originally came from. But infographics can be branded.
JT: In your opinion, what makes a great infographic? What makes a bad infographic?
LS: Good infographics are more about the story than the design. A good infographic contains a strong narrative, is properly researched and sourced, and abides by the standards of data visualization. Bad ones are just the opposite.
JT: Lots of great information-centric blogs these days! What are some of your favorites?
LS: Well, I have to cite the Visual.ly Blog which just went up a month ago. We are doing our best to promote best practices. I also like the usual suspects, Flowing Data, Infosthetics, and Fast Company's Co.Design. And yours of course. Some lesser known ones I like include Data Journalism Blog, Datavisualization.ch, and Well-formed data. People that are interested in this stuff should really read all of these on a regular basis.
JT: What did you think when you heard about the fake "Lee Sherman" interview done by The Social Hours?
LS: It was hilarious. He seemed to know more about our plans than I did.
JT: What was the first infographic you ever created? How much time did it take, and was there a specific subject you were passionate about that drove you develop your first infographic?
LS: I'm not sure which was the very first but the one that stands out in my mind is the "One Trillion Dollars" one we did with Jess Bachman which we later turned into a motion graphic piece as well.  It was a brilliant way to get across the concept if you don't mind me saying so myself.
JT: Do you find certain types of infographics harder to design/develop than others? What themes would you say are popular among creative designers and developers?
LS: The good ones are hard. The most popular themes that we see on our website are in the areas of Economics, Social Media, and Technology.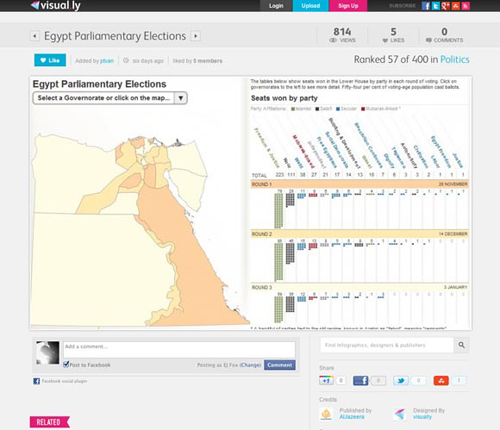 Tags: Data Visualization, forbes, jesse thomas, lee sherman, visual.ly