It's hard to believe that in only one week, the JESS3 team waved good-bye to Iowa and set out to New Hampshire for the second election event of 2012.
Coming off of the electoral drama in Iowa, our team was eager to see the results of the New Hampshire primary. We also wanted to continue our partnership with Google to see the contest beyond the ballot box. We teamed up again with Fox News to visualize Google Search data to see what was really on the minds — and behind the fingertips — of Granite State voters.
While the race wasn't as exciting up north as it was in Iowa, we still captured and helped report out some interesting informational nuggets for people to snack on and use as conversation starters.
For instance, coming out of both debates before the primary, there was a clear bump in searches around Huntsman on Monday — an increase of up to 224% to be exact. The surge corresponded with Huntsman's debate performances over the weekend. Would it translate into votes, though? Despite not being the No. 1 most searched candidate, this increase is still an interesting data point to chew on.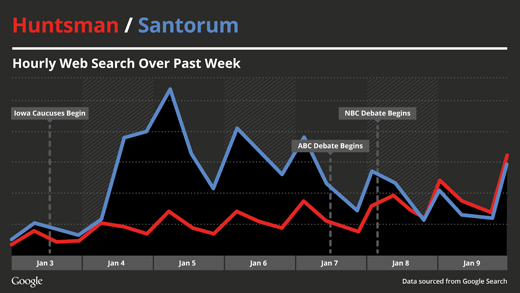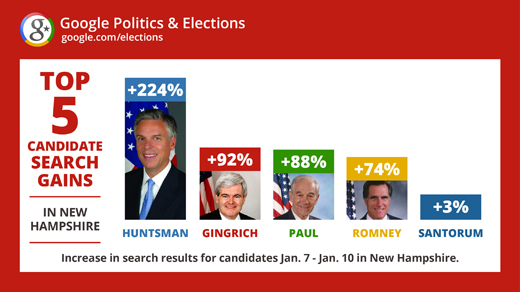 On primary day, we saw a retweet from The Washington Post noting that, according to exit polls, 20 percent of voters waited until primary day to make up their minds about the candidates. So we thought it might be interesting to compare this piece of data against patterns of what people were searching on primary day — could it be that people turned to the Interwebs in effort to learn more about the candidates before casting a vote?
So what was the Google data we were pulling while on the ground in New Hampshire telling us on primary day?
Most notably, searches for Ron Paul stayed level even as the other candidates fell sharply. Of course, that might not be terribly surprising as Paul is the internet candidate; but with 20% of voters making up their minds on primary day and search traffic for other candidates falling sharply, Paul saw a surge in search traffic that mirrored his finish at the polls.
With the night called early in Romney's favor, we also took stock of the issues that were top of voters' minds. What we found was a real search surge around unemployment a year ago — could this perhaps be an indicator of New Hampshire voters' confidence in Romney and his ability to enact a successful jobs plan?
From working in a pipe and draped hallway at St. Anselm's, we're eager for our next stop along the campaign trail. It's exciting to work with a partner like Google, who is focused more on data integrity than horse-race punditry. By serving the public relevant news, information and insights from their proprietary data, Google helps citizens become more meaningful participants in the democratic process.


Tags: 2012 election, becca colbaugh, Campaign Trail, Fox News, google, google politics and elections, googlepolitics, new hampshire