This past Wednesday, JESS3 had the opportunity to attend the Funniest Celebrity in Washington contest at DC Improv, a charity fundraiser for the Susan G. Komen foundation. We were honored to have some of our good friends and beloved clients from the DC area join us for the fun evening: Howard Mortman of C-SPAN,  Katie Harbath and Brooke Oberwetter of Facebook DC,  Mindy Finn of Twitter, and Brad Dancy of Red Bull DC.
The evening feature some of the most prominent names in politics, such as Reps Alan West, Rick Larson, and Americans for Tax Reform's Grover Norquist. Sen. Scott Brown kicked off the evening making a joke about a case of mistaken identity between himself and that "handome guy from Massachusetts", Gov. Mitt Romney.
While some of the contestants were hit-or-miss, Grover Norquist proved to be especially taxing on our funny bones. In the end, The Daily Caller's Jamie Weinstein received first place, followed by Maryland gubernatorial candidate Bryan Murphy. Despite not being a participant (this year, anyway!) JESS3 would like to give an honorable mention to our friend Howard Mortman, who preformed throughout the night via Twitter.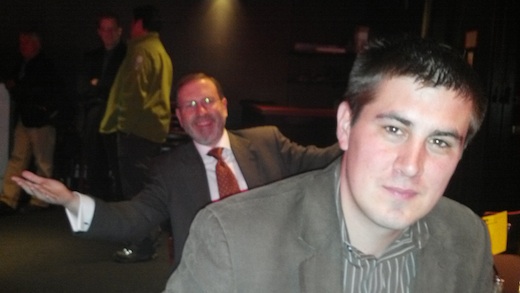 Mark LeMunyon is a Project Manager at JESS3. Follow him @MarkLeMunyon.


Tags: alan west, cspan, dc improv, facebook, grover norquist, jamie weinstein, JESS3, rick larson, scott brown, twitter