[Originally posted on Forbes]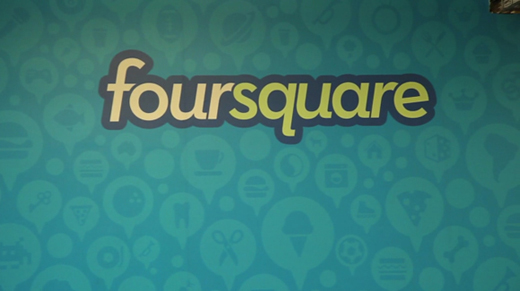 I have always been fascinated by foursquare, and the most recent updates they rolled out are sweet! Last summer I wrote a rant about how I thought foursquare could improve, and the new event check-in is exactly what I asked for. I sat down with Eric Friedman (Director of Business Development of foursquare) in the foursquare NYC headquarters to discuss what foursquare is up to, and where it is going.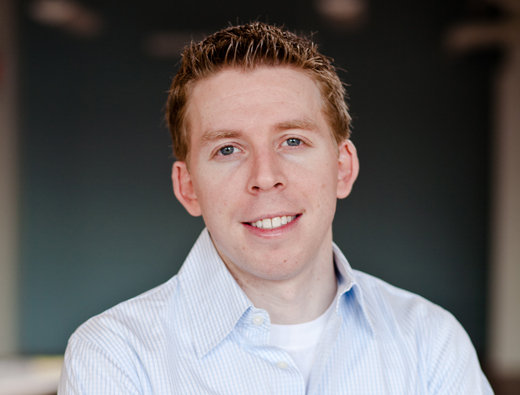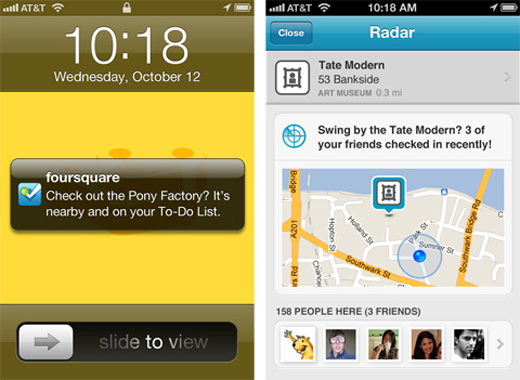 Jesse Thomas: I think this new update is awesome. You guys are continuing to rapidly innovate and it's super exciting to watch. What are some of the new features you get excited about?
Eric Friedman: I am most excited about the launch of foursquare Radar (more here). This feature is made possible by the progress in the mobile OS space, specifically the introduction of iOS5 from Apple. Radar helps you spend more time with the people and places you care about by alerting you when you're near a point of interest, such as a venue where several friends are checked in, or a place on your To-Do List. Pages, Lists, and the social elements of foursquare have now converged in one lightweight utility. We have an amazing client team that continues to use the latest hardware and software innovations to make foursquare a better experience.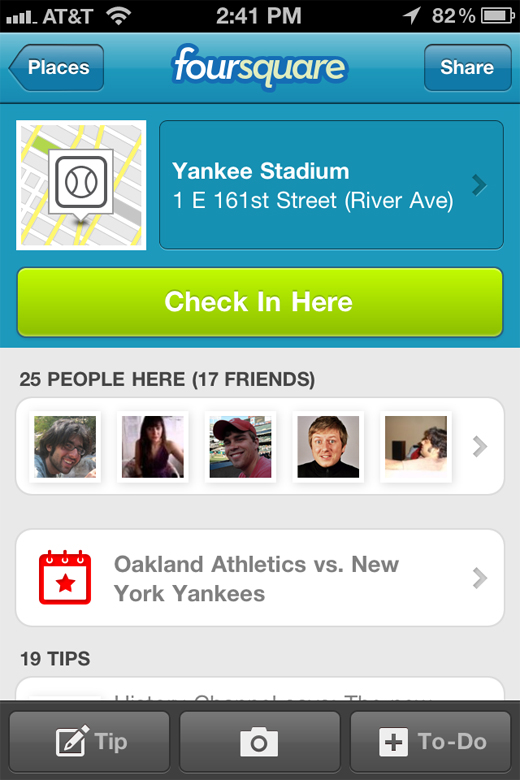 Jesse: How did we get to this event check-in feature? Tell me more about the specifics of what was rolled out, and if you can, please touch on what you have planned for the future of this event check-in feature.
Eric: Foursquare is focused on check-ins to physical locations. But most people like to use foursquare to tell friends not just where they are, but also what they're doing. We want the app to be smarter about what's happening around you, so we partnered with MovieTickets.com, ESPN, and SongKick to launch our Events platform. Now, our community can easily find information on nearby movies, sporting events, and concerts to add context to check-ins. We hope to expand the platform in the future, but before we move on to other types of events, we want to make sure we get this experience right. So far, the feedback has been great.
Jesse: This feature opens a Pandora's box for movie marketers.. are you planning to allow advertisers the opportunity of creating custom experiences inside your app? Perhaps if you check in to a movie you can then play a special game and have a chance to win some big prize? It would seem that you are in a great position to develop rich marketing.
Eric: Our first priority is creating a great user experience within the Events platform by giving users more context about the things going on around them. We also want to ensure that any time we work on a promotion with a merchant or a brand, we're providing real value to our users. At the moment, the best way for businesses to do this is by offering Specials, our version of a deal or reward, to their customers. As always, we have to be very aware of how changes to the Event platform will change the experience for the user, and make sure that we're not negatively impacting our relationship with them.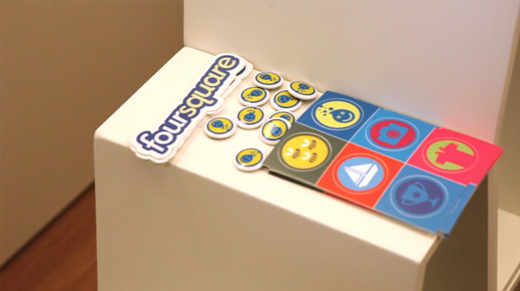 Jesse: This kind of integration does a great job at closing the experience loop with a movie theatre. What are your thoughts about similar loop closing with restaurants? Could you see an opentable and zagat integration one day perhaps?
Eric: Zagat has actually integrated foursquare into its application through our open API and we are very happy with that partnership. We are iterating quickly on the product so we have to be cautious about how we integrate with third-party services. We don't want to slow down development, and we really want to nail the Events platform that we initially rolled out before we begin to pull in other types of events.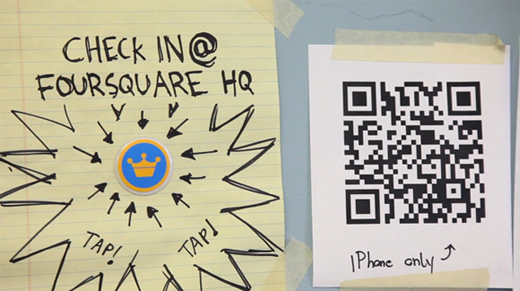 Jesse: How are the third party deal integrations going?
Eric: We've been pulling deals from third-party providers into the Specials tab in Explore for several months, and the user feedback has been great. It's now much easier to see all of the nearby venues offering Specials or deals in one place, and we're able to drive more business to the merchants on our platform because we can do such personalized targeting. You're not just seeing random Specials in foursquare, you're having Specials served up to you based on things like your previous check-ins, the time of day, and proximity.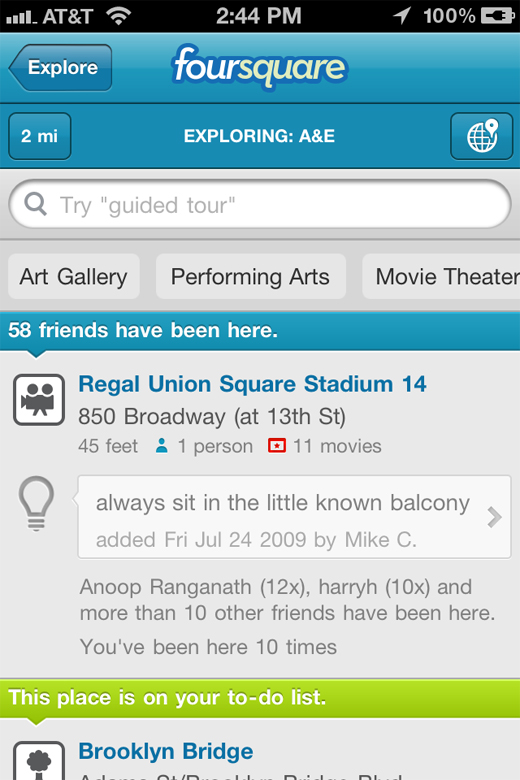 Jesse: It's exciting to think about the GetGlues and other media checkin services of the world using your new APIs. What is your take on potential competition from Filmaster et al?
Eric: We are laser focused on the location space. We keep an eye on what other companies are doing, but we are trying to build for a very specific use case– people exploring the real world. Because of this, we're only interested in check-ins to physical locations at the moment. We don't want to confuse people with too many offerings.
Jesse: If you added messaging, could you be a powerful twitter killer? thoughts on real time communication via foursquare?
Eric: We've rolled out a number of features to facilitate communication between users, including photos and comments. We'll keep making improvements to these offerings and rolling out additional features based on feedback from our community. We're in the process of listening to merchant feedback, and building tools and feature to help support them.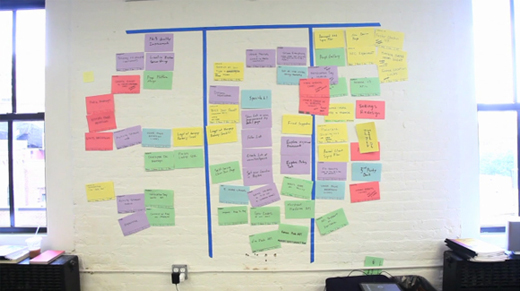 Jesse: There is still a lot of talk on the web about cheating (checking in remotely) – are there any plans in place to prevent people from being able to do this or is it an avoidable aspect of the service?
Eric: Cheating isn't a widespread problem on foursquare, but there are a very small number of people that check in simply to earn points or unlock badges, not to connect with friends or share their location. Our team works to ensure that these individuals can enjoy themselves, while at the same time preserving the social component of foursquare for the rest of the community.
We use a number of things, including GPS data and monitoring of check-in patterns, to automatically detect illegitimate check-ins. If there are check-ins that seem invalid or don't include GPS information, we don't include them in the statistics that we share with venue owners, or in social aspects of foursquare, such as Swarms. If we see a pattern of false check-ins after we've warned a user, we'll suspend their account. In our community of well over 10 million people, far far less than 1% use foursquare in this way.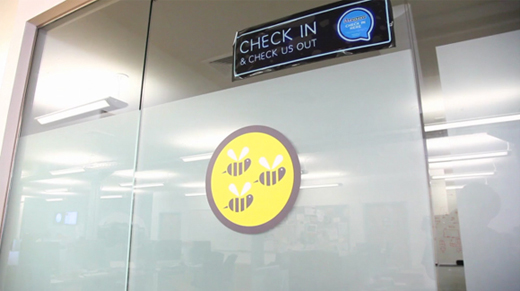 Jesse: What are your thoughts on NFC and automatic check ins?
Eric: Right now the penetration of devices that support NFC is very low. In next few quarters, there are a number of devices that will have this capability. I think we are a long ways off from having ubiquity of hardware that can even scan a NFC chip. Until there is mass adoption of this hardware, it does not make sense to focus on this area. If we see this picking up and it is something that makes the service faster and a better experience, it is something we would consider.
Jesse: What do you think about Facebook killing places?
Eric: They are focusing on what they do best, which is sharing photos and other information with your friends online. They still have a location component, but it seems that they wanted to simplify how people use the service and stick to sharing online. Our focus is very different. Foursquare is all about encouraging people to explore the world around them, and leading them
to interesting experiences.
[Disclosure: foursquare is a client of JESS3.]


Tags: Eric Friedman, events, foursquare, geosocial, jesse thomas, office