Reposted from Forbes.
Buzz and increased anticipation surrounding "Watch the Throne," the collaborative album between Jay-Z and Kayne West, exploded again yesterday with the release of the mini-doc "Watch the Throne." The 10-minute short follows the duo behind the scenes to learn and watch the creative journey of "Watch the Throne." In traditional music doc fashion, it is fast paced and choppy—but it works. We watch the duo struggle and succeed in 4 countries in a gritty hand held style, which captures everything from relationship dynamics to recording sessions, birthday dinners and basketball games. Not only does the doc give us a behind the scenes look at the album, but better insight into the longer relationship between Kayne and Jay-Z—one of mentor and mentee.
Kayne and Jay-Z credit themselves as "The Throne," on the album, and rightfully so! Kayne's record sales top out at 11,360,000 albums and Jay-Z doubles up with sales of 26,410,000. Not only do their records sell, but they also bring in the bucks, earning them a place on Forbes' 2010 "Hip Hop Cash Kings" List.
The doc release in conjunction with the announcement of their upcoming tour dates, markedly increased excitement for the album. The tour kicks off in Detroit on September 22nd (anyone in the DC area wanna roll with JESS3 to the DC show at the Verizon Center?):
* SEP 22 DETROIT, MI – PALACE OF AUBURN HILLS
* SEP 24 TORONTO, ON – AIR CANADA CENTRE
* SEP 25 MONTREAL, QC – BELL CENTRE
* SEP 27 EAST RUTHERFORD, NJ – IZOD CENTER
* SEP 28 EAST RUTHERFORD, NJ – IZOD CENTER
* SEP 29 WASHINGTON DC – VERIZON CENTER
* OCT 4 PHILADELPHIA, PA – WELLS FARGO CENTER
* OCT 6 CHICAGO, IL – UNITED CENTER
* OCT 7 CHICAGO, IL – UNITED CENTER
* OCT 8 MINNEAPOLIS, MN – TARGET CENTER
* OCT 10 DENVER, CO – PEPSI CENTER
* OCT 13 TACOMA, WA – TACOMA DOME
* OCT 14 VANCOUVER, BC – ROGERS ARENA
* OCT 16 SAN JOSE, CA – HP PAVILION
* OCT 17 SACRAMENTO, CA – POWER BALANCE PAVILION
* OCT 19 LOS ANGELES, CA – STAPLES CENTER
* OCT 20 LOS ANGELES, CA – STAPLES CENTER
* OCT 21 LAS VEGAS, NV – MGM GRAND GARDEN ARENA
* OCT 25 DALLAS, TX – AMERICAN AIRLINES CENTER
* OCT 26 HOUSTON, TX – TOYOTA CENTER
* OCT 29 ATLANTA, GA – PHILIPS ARENA
* OCT 30 GREENSBORO, NC – GREENSBORO COLISEUM
* NOV 1 BALTIMORE, MD – 1ST MARINER ARENA
* NOV 3 BOSTON, MA – TD GARDEN
Update 07/28/2011: because of overwhelming demand, Live Nation has just announced that they will be adding more dates to the Watch the Throne tour."
"Watch the Throne" has a digital release date of August 8, but that hasn't stopped the rush for presales and additional social media traffic. This week, Twitter exploded with enthusiasm.
"Otis," which will be track 4, is the second teaser track released from the album (you can listen to it here: http://lifeandtimes.com/otis) after H.A.M. was leaked around the turn of the year. "Otis" is built around a sample of the Otis Redding classic "Try a Little Tenderness," a song which has seen a resurgence in popularity this year, due in part to a stunning cover by Glee's Amber Riley in a May episode entitled "Funeral".
On the track, Yeezy and Jigga calmly trade verses back and forth with an unusual twist: no hook. Additionally, the single has fantastic cover art from Italian fashion designer Riccardo Tisci which Kanye shared on his Twitter account, earning the Twitpic some 126,000 views.
Both critics and fans gave it high praise and it has increased excitement for the rest of the album. I've definitely started my countdown!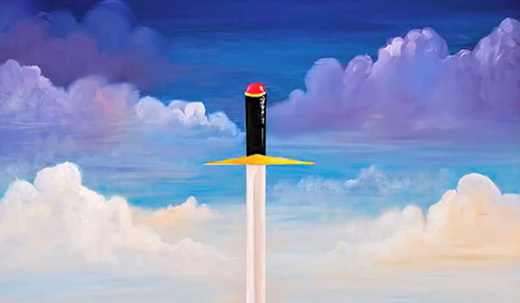 Tags: Amber Riley, documentary, Glee, hip hop, Jay-Z, Kayne West, music, socialmedia, tour, twitter, Watch the Throne