Tech Cocktail's Startup Mixology conference, being held today at the Woolly Mammoth Theater in Washington, D.C., is an orchard full of ripe ideas for entrepreneurs strategizing about how to get their idea off of the ground or take it to the next level. Just halfway through the day, techy entrepreneur all-stars including former AOL CEO Steve Case, Genius Rocket President Peter LaMotte and JESS3's own Leslie Bradshaw have extolled respectively on the virtues of perseverance, crowdsourcing, and of course, design.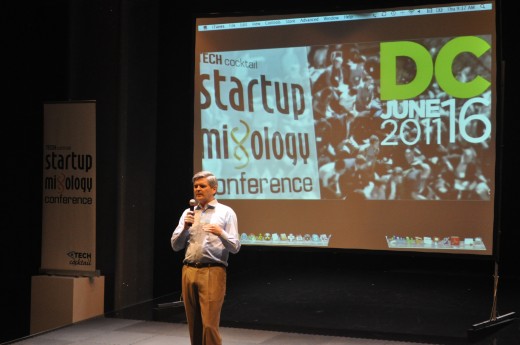 Steve Case (speaking above), whose nearly two decades navigating the peaks and valleys at AOL, repeatedly underscored the necessity of people, passion, and perseverance. "If you have a built-to-last, change-the-world model, it's typically going to take a decade or more," Steve said. The only way to succeed through booms and busts in the market is to gather the right people, be passionate about your work, and persevere. "It's easy to be successful when times are hot, but withstanding the lulls takes something more," Steve explained.
On the concept of crowdsourcing, Peter LaMotte suggested that the concept does not inherently guarantee success. The trick is picking the right step of the creative process to crowdsource. Peter explained how Genius Rocket began producing video content by obtaining submissions of final videos. Dissatisfied with the products submitted, Peter and the folks at Genius Rocket switched from crowdsourcing final videos to crowdsourcing video concepts from well-vetted video-producers. Once clients settled on a concept, they moved on to storyboards and eventually final videos, which have overwhelmingly bested those that emerged from the group's old model. Crowdsourcing the right stage of the process dramatically improved the value that Genius Rocket provides to its clients. So, the take-away is not merely to crowdsource, but to take a page out of the Genius Rocket playbook and crowdsource smartly.
Startup Mixology presenters seemed to agree that in today's market, design is an essential ingredient in the tastiest of entrepreneurial cocktails. Leslie Bradshaw (speaking below in front of a packed house) shared some lessons from successfully working with designers at JESS3. Quoting Path founder Dave Morin, Leslie shared with the crowd of hungry entrepreneurs his words of wisdom: "'I can't overstate the value of design for a start-up.' I made a designer my co-founder. They should be employee number two, not employee number ten." With designer Jesse Thomas as our founder, JESS3 has taken these words to heart!
On design- and designer-selection, Leslie urged folks to decide wisely and then stand by that decision and your designers. While reaching across geographic boundaries, Leslie also emphasized the importance of creating a culture of precision, excellence, and timely execution. (Slides from Leslie's presentation are at the bottom of this post.)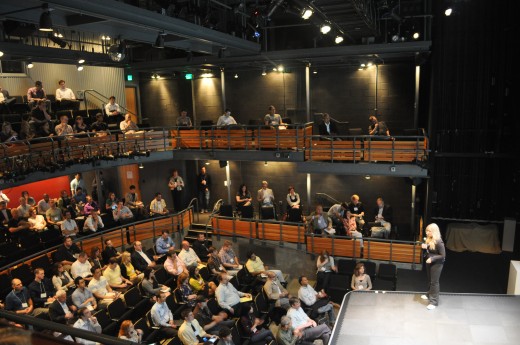 With such a stellar line-up of presenters throughout the day, this is but a taste of what's to offer at Tech Cocktail's Startup Mixology Conference (livestreaming now until 5:30). For those in D.C. that couldn't make today's event, you can catch up with speakers and attendees at Foggy Bottom's Shadow Room tonight from 6:30 to 9:00, where local startups and entrepreneurs will be trading tips and contact information over – what else? – cocktails.


Tags: aol, crowdsourcing, design, entrepreneur, Genius Rocket, JESS3, leslie bradshaw, Peter LaMotte, startups, Steve Case, Tech Cocktail, Tech Cocktail's Startup Mixology Conference