Every week on "Fuzzy Friday", we debut a different JESS3 team member's four-legged friend. This week, I (Carol Zirkle, CPA and JESS3 Comptroller) have the pleasure of introducing you to my best friend. Meet Santana:
Name: My Name is Santana.  I was named after the great guitarist, Carlos Santana who is probably best known for the song Black Magic Woman.
Location: I now live in Herndon, VA.  I'm head of security at the JESS3 accounting department.  I'm on duty at my post on the staircase most of the day.  I love to bark at delivery people and monitor activity around the neighborhood.
Breed: I'm a 3 year old mixed breed puppy.  You could guess Rottweiler and some type of working breed as I like to nip at ankles and herd.
Favorite Past Time: When I'm not working, I like to sniff my yard and play frisbee out back.  Also, I like to catch a few winks.  I really wish the cats would play with me and that I got my special dinner more than once a week, but such is a dog's life.
How You Met Your Owner:  I was found at a kill shelter in South Carolina with my brother and rescued by a Washington, DC animal group.  I was adopted shortly thereafter.
Parting Words: Well, it's nap time.  Thanks for say hi.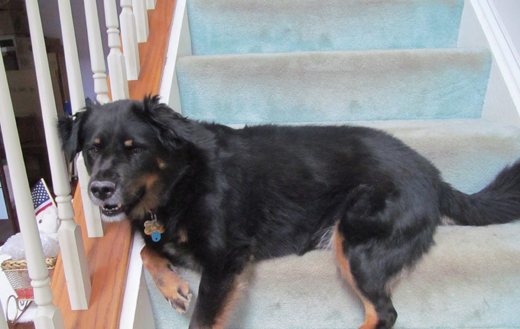 Tags: Carol Zirkle, fuzzy friday, santana