JESS3 teamed up with Google to create movie-sized posters symbolizing each of the 14 engineering efforts that take place at its new Los Angeles office.
The posters, revealed at the grand opening party of Google LA in the posh "Binoculars" building in Venice Beach, were fun and bright with the idea of catching the attention of attendees.
In addition to creating works of art that were aesthetically pleasing, we aimed to tell a story, working closely with the team at Google LA to showcase how in detail these different teams work.
This project involved close communication with Google to ensure that the visual metaphors being developed in the concepts reflected the work of each team at the LA office.
My team took the concepts and developed a full blown sketch of it, bringing the metaphors to life, creating the elements to reflect the narrative and hold the data and info.

The next big step? Colouring the sketches! Bringing them to life, creating the mood of the posters along with tweaking them to enhance the narrative.
Things can look great and seem as though they work in sketch stage, but once colour is added the relationships and drama changes, therefore we had to be sure this was considered and make adjustments where required.
Some of the challenges faced with the visual metaphors included being sure that the visuals used correctly conveyed what we wanted the narrative to be and stepping back to make sure that a lay person would be able to get it.  Some fun things we'd ponder include: "How do we make the clouds integrate differently on this one?" or "Does that element look Google-y enough?" We wanted to be sure to reflect the character of Google through the imagery.
Another big challenge was the volume of the work versus time. Given that we wanted to reflect the unique and different work across 14 different teams, ensuring that this was respected while trying to create a visual link between all of them to reflect the wider LA unit caused many long days of tireless work.
Having a close working relationship with the client, any client is paramount on a project like this. The communication channels must always be open and each others point of view must be respected to craft something meaningful together.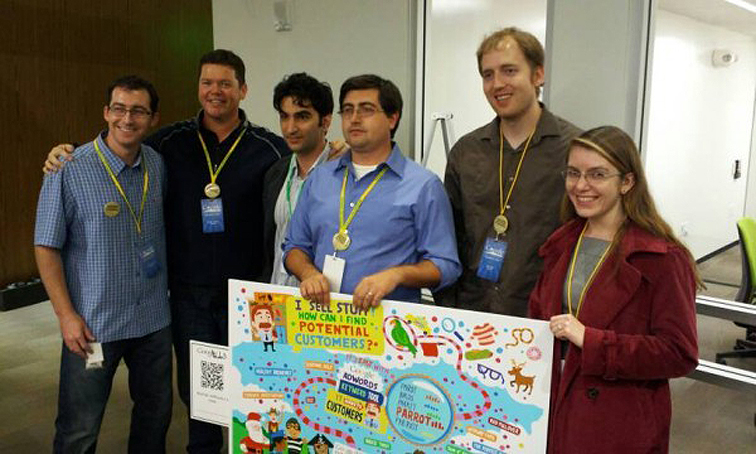 See all the Google LA Infographic Posters we created in our project case study.


Tags: cloud, Google LA, infographics, JESS3, posters